The National Hurricane Center's track forecast suggests that the area near the border of Texas and Louisiana is most likely to endure a direct hit, although shifts are possible.
Early Monday afternoon, Marco was succumbing to hostile shear — a change in wind direction and speed with altitude — and had weakened to a minimal tropical storm. The Hurricane Center predicted that it would further weaken but cautioned that the remnant circulation would bring heavy rain and gusty winds to the northern Gulf Coast through Tuesday.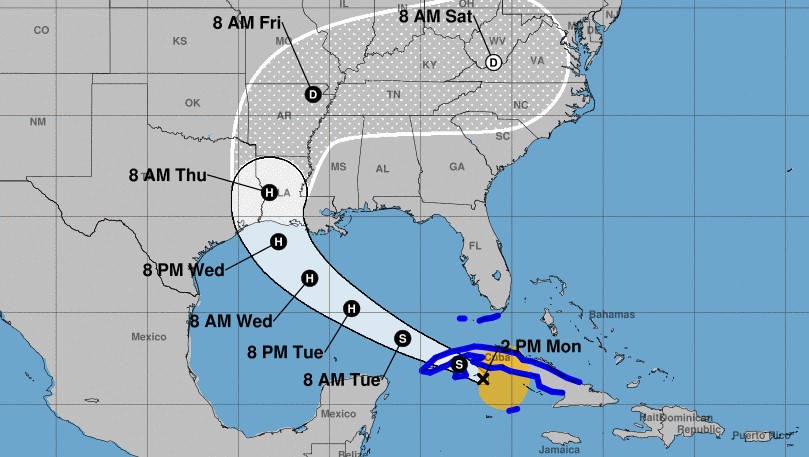 [08/22 UPDATE]:
Tropical Storm Laura appeared more disorganized on Saturday morning as it moved over Puerto Rico, but it's still expected to become a hurricane after it sweeps the Caribbean on the latest forecast track, according to the National Hurricane Center.
Meanwhile, Tropical Storm Marco picked up strength overnight as it targets Mexico and Texas. Marco formed late Friday night in the northwestern Caribbean.
Most of the Sunshine State is out of Tropical Storm Laura's cone of uncertainty except for parts of the Florida keys, according to the latest forecast.
But Laura could still bring storm surge, wind and rain to the state, forecasters say. And despite its center appearing more disorganized, the storm is also still forecast to transform into a hurricane early next week.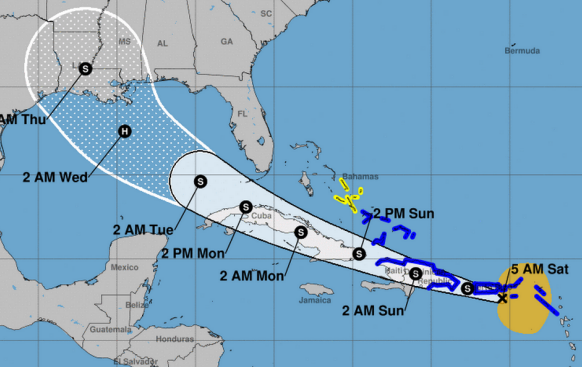 [08/21 UPDATE]:
Tropical Storm Laura formed Friday morning, but much of Florida moved out of its forecast track, according to the 2 p.m. Friday update from the National Hurricane Center.
A Hurricane Hunter aircraft investigated the system and found it had become better organized over the past several hours, but the hurricane center said it has low confidence in the storm's track and intensity forecasts because of possible interactions with the islands in the Caribbean.
Tropical storm warnings were posted for Puerto Rico, the U.S. and British Virgin Islands and several others in the eastern Caribbean.
Monroe County Mayor Heather Carruthers declared a state of emergency at noon Friday ordering the mandatory evacuation of all live-aboard vessels, mobile homes, recreational vehicles, travel trailers, and campers.
General population shelters will be discussed Saturday morning to open on Sunday at 3 p.m. for those who live in vulnerable homes or aboard boats, she said.
The latest forecast shows the system in the Florida Straits between Cuba and the Keys as a tropical storm on Monday morning, then passing near Key West as a hurricane and into the Gulf of Mexico. The track has Laura making landfall somewhere between the Florida panhandle and New Orleans as a hurricane in the middle of next week.
South Florida may not get the full brunt of a tropical storm or hurricane but that doesn't mean we won't feel some of its effects, according to a National Weather Service briefing Friday morning.
"It's possible some of the outer bands near the region could spur tornado activity," said meteorologist Robert Garcia. "That's something we'll be monitoring for Sunday and Monday, potentially, with the storm approaching and crossing into the Gulf."
Tropical Storm Laura had sustained winds of 45 mph and was moving quickly at 18 mph toward the west, according to the hurricane center's advisory at 2 p.m. Friday.
The system — which is about 175 miles southeast of the northern Leeward Islands — could cause storm surge, rainfall and heavy wind in portions of Hispaniola, Cuba, the Bahamas and far southern Florida this weekend.
South Florida residents should continue to monitor its progress. Whether or not the storm moves over the terrain of Greater Antilles this weekend will factor into its track and intensity. Storms generally lose intensity over land and may encounter storm-weakening wind shear.
Another depression in the western Caribbean is also expected to strengthen into Tropical Storm Marco and move north into the Gulf of Mexico. It could also be a hurricane next week off the coast of Texas or Louisiana.
"These are right on schedule," said Dennis Feltgen, spokesman for the Miami-based National Hurricane Center. "This time of year, in August and into September, you get these tropical waves that roll off the coast of Africa on average about every three or four days."
After Laura, the next named storms of 2020 are Marco, Nana, Omar, Paulette, Rene, Sally, Teddy, Vicky and Wilfred.
In July, there were five tropical storms: Edouard, Fay, Gonzalo, Hanna and Isaias. Other named storms this year have included Arthur, Bertha, Cristobal and Dolly. Tropical Storm Arthur formed in mid-May, making this the sixth straight year that a named storm formed before the official start of hurricane season on June 1.
Virtually all estimates for this hurricane season predict an above-average number of storms, due to unusually warm ocean temperatures and global climate factors that are likely to reduce the high-altitude winds that can prevent the formation of hurricanes.
When Disaster Strikes Regency DRT Responds! Call Now For Immediate Assistance – Call (888) 221-5791!